We offer intensive courses in groups of 3-6 students for basic and intermediate level (A1 to B2). There are 15, 20 or 30 weekly lessons of 45 minutes. From the first class on you will speak Portuguese and learn the grammar in a communicative context of the Brazilian life. New courses start every 2 weeks and regularly we offer outbound activities to get to know the city and surroundings, Check our calendar.
Get a look at our weekly schedule: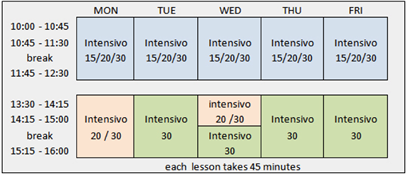 Intensive 15 is indicated for those who prefer having classes only in the morning, from 10h to 12h30..
Intensive 20 has 5 additional classes in the afternoon for training different contexts.
Intensive 30 offers 20 lessons in group + 10 individual lessons preparing students with an specific needs as for example starting a new work or study program in Brazil or to study more about Brazilian culture.